Cerecal Plus Vanilla Flavour
Can be used to bottle-feed children or mushed up like baby cereals.
Important notice
For the dietary management of phenylketonuria and other inherited metabolic disorders requiring a low protein diet. Incomplete food, not suitable for use as the sole source of nourishment. To be used under medical supervision. Not suitable for children and adults in good health or babies under 4 months old.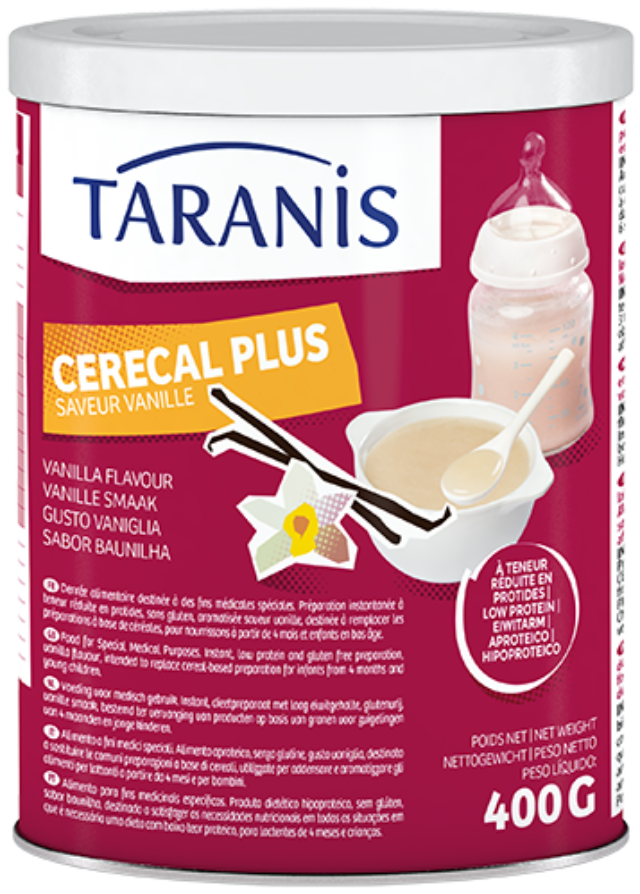 Description
Food for special medical purposes. Instant, low-protein and gluten-free dietary preparation to replace cereal-based preparation for babies from 4 months and young children.
Vanilla flavour.
Ingredients
Maltodextrin, corn starch, natural vanilla flavour.
Gluten free.
Usage
You can prepare Cerecal Plus to your preferred consistency, either as liquid for a feeding bottle or thicker to be eaten with a spoon. This product does not require cooking.
1 heaped teaspoon = 4g.
To prepare feeding bottle: pour a teaspoon of Cerecal Plus into the feeding bottle of liquid, shake and it's ready. Cerecal Plus does not need any heating.
To prepare a thick dessert: sprinkle 3 teaspoons (or more) of Cerecal Plus on the hot liquid, stir and it's ready. The desired consistency can be obtained by adjusting the quantity of Cerecal Plus.
Conservation
Store in a cool, dry place. Reaseal after use and consume within 6 weeks after opening.
Conditioning
400g tin
Nutritional Values
| Average composition | For 100g of product |
| --- | --- |
| Energy value | 1622 kJ (382 kcal) |
| Fat | <0.5 g |
| Of which saturates | <0.1 g |
| Carbohydrate | 95.0 g |
| Of which sugars | 4.2 g |
| Fibre | 0.5 g |
| Protein | 0.2 g |
| Of which Phenylalanine | <4.0 mg |
| Methionine | <4.0 mg |
| Leucine | 4.2 mg |
| Threonine | <4.0 mg |
| Isoleucine | <4.0 mg |
| Lysine | <4.0 mg |
| Valine | 4.0 mg |
| Cystine | <4.0 mg |
| Tyrosine | <4.0 mg |
| Arginine | <4.0 mg |
| Salt | 0.04 g |
| Minerals | |
| Sodium | 14.8 mg (0.64 mmol) |
| Potassium | 12.0 mg (0.31 mmol) |
| Chloride | 20.0 mg (0.6 mmol) |
| Calcium | 18.0 mg (0.45 mmol) |
| Phosphorus | 3.6 mg (0.04 mmol PO4) |
| Magnesium | 3.4 mg (0.14 mmol) |