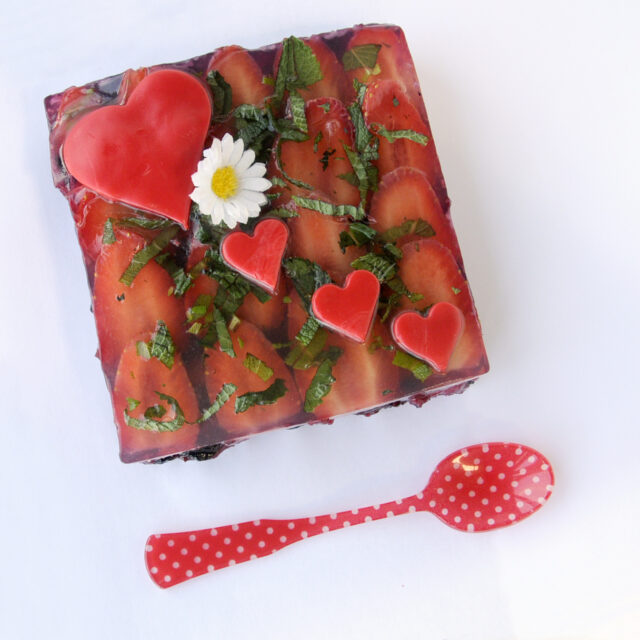 Ingredients
80 g fine semolina
350 ml cold water
1 sachet vanilla sugar
10 g butter
6 rusks
30 g sugar
100 g frozen blueberries
125 g strawberries
For the infusion:
½ bunch of mint + 250 ml water + 1 g agar agar + 20 g sugar
Sugarpaste cake decorations (hearts)
Preparation
Mix 60 g semolina with the vanilla sugar, butter and cold water in a saucepan. Warm until the preparation thickens, then pour half into a cake mould with a removable bottom or a springform cake tin.
Crush the rusks to a fine crumb with the rolling pin, then add the blueberries, 30 g sugar and the remaining semolina. Cover the first layer with this mixture.
Cut the strawberries into thin slices and arrange to form a pattern.
Prepare an infusion with boiling water and mint sprig. Strain. Add the agar agar and the sugar and bring to the boil again. Allow to cool before pouring carefully over the strawberries.
Refrigerate for 4 hours. Garnish with chopped mint and the sugarpaste hearts.
Tip: use apricot halves and diced apricot in syrup if you have no fresh fruit.
Nutritional Values
976 kJ / 230 kcal
4.5g
47 g
0.6 g
18.2 mg
34.2 mg