Lemon flavoured cake
With their soft texture and great lemon taste, these little cakes will delight young and old alike.
Important notice
For the dietary management of phenylketonuria and other inherited metabolic disorders requiring a low protein diet. Incomplete food, not suitable for use as the sole source of nourishment. To be used under medical supervision. Not suitable for children under 3 years old.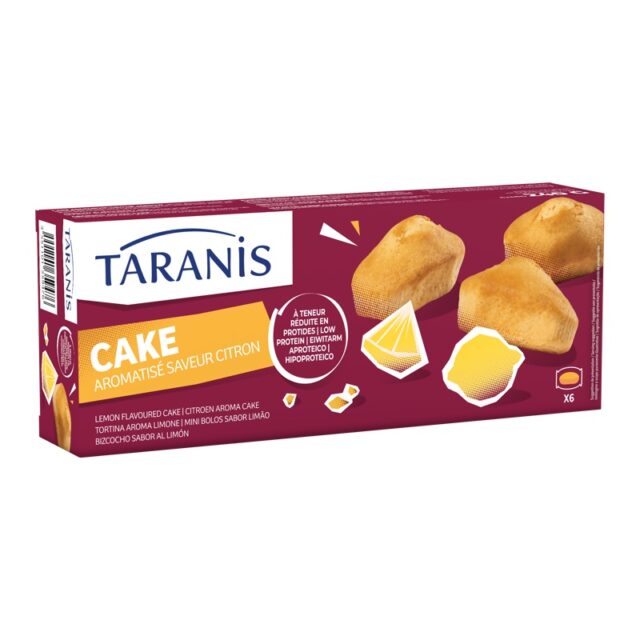 Description
Food for special medical purposes. Low protein and gluten free, lemon flavoured cake to replace ordinary cakes.
Ingredients
Potato starch, sugar, non-hydrogenated palm oil, dextrose, water, corn starch, stabiliser, (glycerol), thickeners (carob seed flour, xanthan gum), emulsifiers (mono and diglycerides of fatty acids, rapeseed lecithin), raising agent (disodium diphosphate, sodium acid carbonate, monocalcium phosphate), flavour (contains alcohol), salt, natural lemon flavour (0.2%). Possible traces of milk, eggs and nuts.
Gluten free.
Conservation
Keep in a cool and dry place.
Conditioning
240g box, 6 individually wrapped of 40g.
Nutritional Values
| Average composition | For 100g of product | For 1 portion (40g) |
| --- | --- | --- |
| Energy value | 1562 kJ (372 kcal) | 625 kJ (149 kcal) |
| Fat | 15.2 g | 6.1 g |
| Of which saturates | 7.6 g | 3.0 g |
| Carbohydrate | 58.0 g | 23.2 g |
| Of which sugars | 27.1 g | 10.8 g |
| Fibre | 1.3 g | 0.5 g |
| Protein | 0.2 g | 0.1 g |
| Of which Phenylalanine | 5.5 mg | 2.2 mg |
| Methionine | 4.5 mg | 1.8 mg |
| Leucine | 12.0 mg | 4.8 mg |
| Threonine | 5.4 mg | 2.2 mg |
| Isoleucine | 5.2 mg | 2.1 mg |
| Lysine | 3.0 mg | 1.2 mg |
| Valine | 7.3 mg | 2.9 mg |
| Cystine | 3.6 mg | 1.4 mg |
| Tyrosine | 3.8 mg | 1.5 mg |
| Arginine | 7.5 mg | 3.0 mg |
| Salt | 0.73 g | 0.29 g |
| Minerals | | |
| Sodium | 290 mg (12.6 mmol) | 116 mg (5.0 mmol) |
| Potassium | 23.8 mg (0.61 mmol) | 9.5 mg (0.24 mmol) |
| Chloride | 140 mg (3.9 mmol) | 56.0 mg (1.6 mmol) |
| Calcium | 19.0 mg (0.48 mmol) | 7.6 mg (0.19 mmol) |
| Phosphorus | 160 mg (1.7 mmol PO4) | 64.0 mg (0.67 mmol PO4) |
| Magnesium | 4.0 mg (0.17 mmol) | 1.6 mg (0.07 mmol) |