Risotto substitute
With the Risotto substitute, your diet becomes easier. You just have to heat 2 minutes in the microwave (or pour into a saucepan and heat on low heat) and it's ready!
Important notice
For the dietary management of phenylketonuria and other inherited metabolic disorders requiring a low protein diet. Incomplete food, not suitable for use as the sole source of nourishment. To be used under medical supervision. Not suitable for children under 3 years old.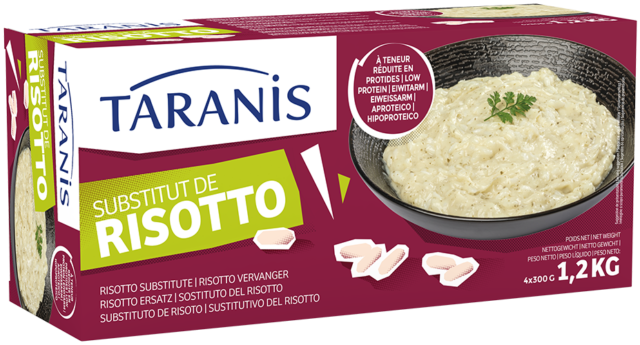 Description
Food for special medical purposes. Low-protein dietary preparation to replace ordinary pre-cooked risotto.
Ingredients
Water, corn starch, onions, colza oil, modified corn starch, modified potato starch, cream (milk), flavours, emulsifiers (E472c, E471), parsley, salt, stabilizer E461, antioxidant E300, colour E160a. Possible traces of soya and cereals containing gluten (wheat).
Usage
1 portion of 300g: 1 to 2 times per week
Open the bowl.
Then, heat in the microwave for 2min. (500-600watts).
There may be some oil on the surface. Stir well before eating. You may add grated Taranis Cheese substitute and / or vegetables.
Conservation
At room temperature, in a cool and dry place. After opening, refrigerate and consume within 24 hours.
Conditioning
1,2 kg pack (4 bowls of 300g)
Nutritional Values
| Average composition | For 100g of product | For 1 portion (300g) |
| --- | --- | --- |
| Energy value | 432 kJ (103 kcal) | 1296 kJ (310 kcal) |
| Fat | 5.0 g | 15.0 g |
| Of which saturates | 1.3 g | 3.9 g |
| Of which monounsaturates | 2.6 g | 7.8 g |
| Of which poly-unsaturates | 1.2 g | 3.6 g |
| Carbohydrate | 14.0 g | 42.0 g |
| Of which sugars | <0.2 g | <0.6 g |
| Of which lactose | <0.2 g | <0.6 g |
| Fibre | 0.5 g | 1.5 g |
| Protein | 0.3 g | 0.9 g |
| Of which Phenylalanine | 5.6 mg | 16.8 mg |
| Methionine | <4.0 mg | <12.0 mg |
| Leucine | 9.4 mg | 28.2 mg |
| Threonine | 5.6 mg | 16.8 mg |
| Isoleucine | 5.1 mg | 15.3 mg |
| Lysine | 8.0 mg | 24.0 mg |
| Valine | 6.8 mg | 20.4 mg |
| Cystine | <4.0 mg | <12.0 mg |
| Tyrosine | 5.1 mg | 15.3 mg |
| Arginine | 9.8 mg | 29.4 mg |
| Salt | 0.68 g | 2.0 g |
| Minerals | | |
| Sodium | 273 mg (11.9 mmol) | 819 mg (35.6 mmol) |
| Potassium | 16.0 mg (0.41 mmol) | 48.0 mg (1.2 mmol) |
| Chloride | 423 mg (11.9 mmol) | 1269 mg (35.7 mmol) |
| Calcium | 7.6 mg (0.19 mmol) | 22.8 mg (0.57 mmol) |
| Phosphorus | 6.7 mg (0.07 mmol PO4) | 20.1 mg (0.21 mmol) |
| Magnesium | 2.7 mg (0.11 mmol) | 8.1 mg (0.34 mmol) |