Vanilla-Cocoa Dessert Pudding
Very easy to use for breakfast replacing cocoa powder or as a dessert pudding.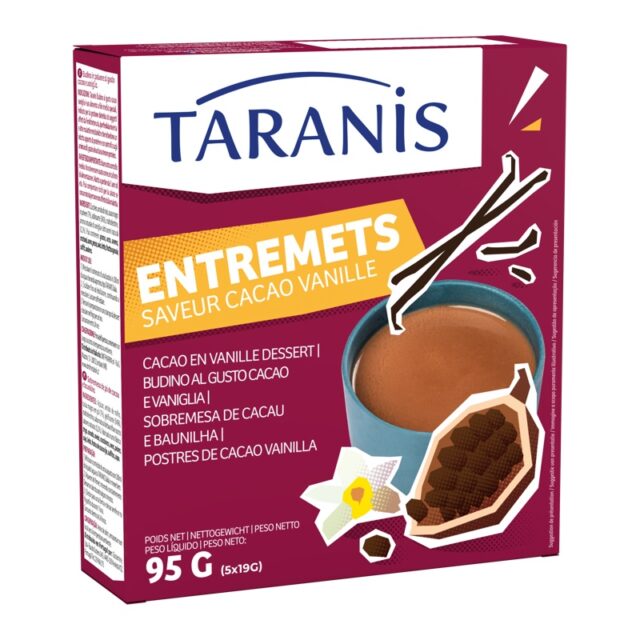 Description
Preparation in powder, for dessert, vanilla-cocoa flavour.
Ingredients
Sugar, corn starch, fat reduced cocoa powder (7%), gelling agent (E406), maltodextrin, natural vanilla flavour and other natural flavours (0.2%). Manufactured in workshop using: wheat, barley, oat, crustacean, egg, fish, soya, milk, nuts, sulphites, celery.
Usage
In a saucepan, mix the contents of one sachet with 200 ml of liquid (water or TARANIS Dalia). Bring to the boil and leave to cook for a few minutes, stirring constantly. Pour into a cake tin and refrigerate for 1 hour. Use within 24 hours.
Can also be used as a substitute for cocoa powder for breakfast.
Conservation
Store in a dry place at room temperature.
Conditioning
95 g box (5 sachets of 19 g).
Nutritional Values
| Average composition | For 100g of product | For 1 sachet (19g) |
| --- | --- | --- |
| Energy value | 1664 kJ (393 kcal) | 316 kJ (75 kcal) |
| Fat | 1.7 g | 0.3 g |
| Of which saturates | 1.0 g | 0.2 g |
| Carbohydrate | 90.0 g | 17.1 g |
| Of which sugars | 80.0 g | 15.2 g |
| Fibre | 5.1 g | 1.0 g |
| Protein | 1.8 g | 0.3 g |
| Of which Phenylalanine | 70.0 mg | 13.3 mg |
| Methionine | 20.0 mg | 3.8 mg |
| Leucine | 100 mg | 19.0 mg |
| Threonine | 60.0 mg | 11.4 mg |
| Isoleucine | 70.0 mg | 13.3 mg |
| Lysine | 60.0 mg | 11.4 mg |
| Valine | 90.0 mg | 17.1 mg |
| Cystine | 40.0 mg | 7.6 mg |
| Tyrosine | 50.0 mg | 9.5 mg |
| Arginine | 80.0 mg | 15.2 mg |
| Salt | 0.10 g | 0.02 g |
| Minerals | | |
| Sodium | 40.0 mg (1.7 mmol) | 7.6 mg (0.33 mmol) |
| Potassium | 293 mg (7.5 mmol) | 55.7 mg (1.4 mmol) |
| Chloride | 14.0 mg (0.39 mmol) | 2.7 mg (0.08 mmol) |
| Calcium | 13.0 mg (0.33 mmol) | 2.5 mg (0.06 mmol) |
| Phosphorus | 61.0 mg (0.64 mmol PO4) | 11.6 mg (0.12 mmol PO4) |
| Magnesium | 41.0 mg (1.7 mmol) | 7.8 mg (0.32 mmol) |