Couscous with golden turnips and fish quennelles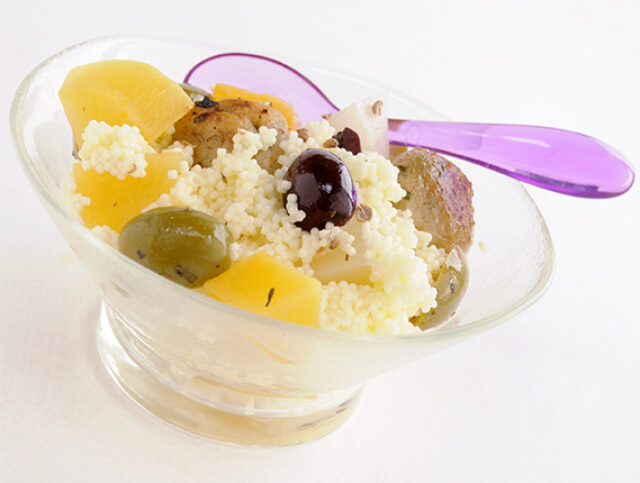 Ingredients
1 sachet of fish substitute
120g of couscous
30g pitted olives marinated in herbs
2 golden turnips
1 clove of garlic
1 pinch of cumin
Salt
Preparation
Measure 120g of couscous (1 cup). Add the same volume of boiling water. Leave to absorb the water for 4 minutes.
Run under cold water, using your fingers to separate the grains. Drain and keep warm.
Mix the fish substitute powder with the cumin. Pour on 100ml of boiling water and stir thoroughly. Let sit for 10 minutes. Using two small spoons, shape the mini quenelles.
Peel the turnips and cut them into quarters. Cook them for 20 minutes in boiling salted water. Mix them with the olives.
Fry the quenelles in a frying pan and serve them with the couscous with vegetables.
Nutritional Values
354kcal
3.6g
77.7g
2.5g
55mg
105.3mg