Fish substitute
With Fish substitute, you could make a lot of recipes: fish dumplings, croquettes... It allows you to vary your diet: a guarantee for the success of your diet.
Important notice
For the dietary management of phenylketonuria and other inherited metabolic disorders requiring a low protein diet. Incomplete food, not suitable for use as the sole source of nourishment. To be used under medical supervision. Not suitable for children under 3 years old.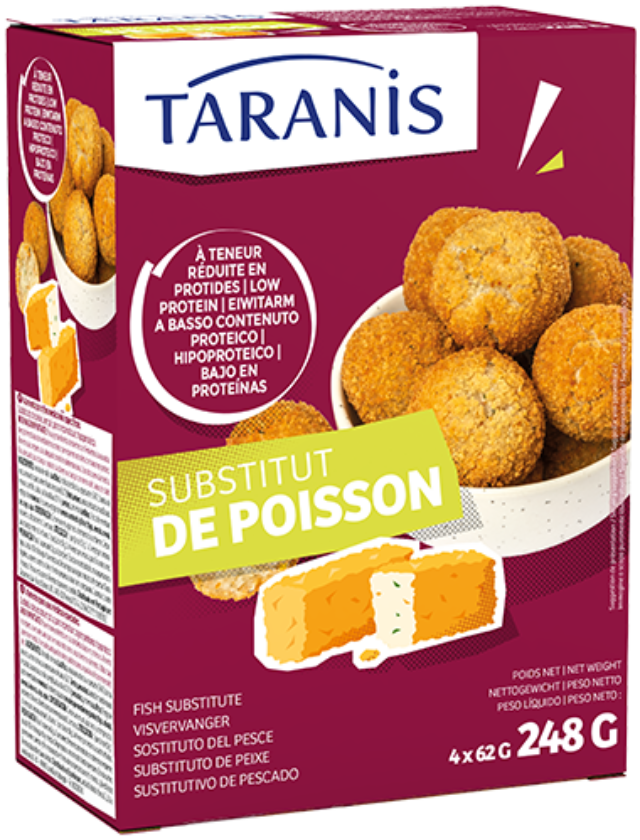 Description
Food for special medical purposes. Low protein dietary preparation in powder to replace ordinary fish.
Ingredients
Corn starch (sulphites), inuline from chicory, thickener (E461), rice flour, flavour (including flavour enhancer: E621) (fish, milk), modified potato starch, carrot, thyme, parsley, salt, cod 0.1 % (fish), pepper (sulphites). Possible traces of cereals containing gluten (wheat, barley, oat), egg, soybean, celery, molluscs.
Usage
1 portion of 31g: 1 to 2 times per week for children aged 3 to 8 years and 3 to 4 times per week for children aged 8 years and older.
1 portion contains 1.3g of salt.
Pour contents of one sachet into a container, add 100ml of cold water and mix.
Let stand for several minutes until the mixture thickens.
Fry in oil in a frying pan.
Make several small balls (about 20 to make the fritters).
Cook for 3 minutes. Taste, it's ready !
Conservation
Store in a cool, dry place. Consume within 2 weeks after opening.
Conditioning
248g box (4 sachets of 62g).
Nutritional Values
| Average composition | For 100g of product | For 1 portion (31g) |
| --- | --- | --- |
| Energy value | 1171 kJ (280 kcal) | 363 kJ (87 kcal) |
| Fat | 0.5 g | 0.2 g |
| Of which saturates | 0 g | 0 g |
| Carbohydrate | 48.0 g | 14.9 g |
| Of which sugars | 1.9 g | 0.6 g |
| Fibre | 37.0 g | 11.5 g |
| Of which inulin | 21.0 g | 6.5 g |
| Protein | 2.4 g | 0.7 g |
| Of which Phenylalanine | 90.0 mg | 27.9 mg |
| Methionine | 40.0 mg | 12.4 mg |
| Leucine | 160 mg | 49.6 mg |
| Threonine | 80.0 mg | 24.8 mg |
| Isoleucine | 80.0 mg | 24.8 mg |
| Lysine | 95.0 mg | 29.5 mg |
| Valine | 110 mg | 34.1 mg |
| Cystine | 6.0 mg | 1.9 mg |
| Tyrosine | 100 mg | 31.0 mg |
| Arginine | 150 mg | 46.5 mg |
| Salt | 4.0 g | 1.3 g |
| Minerals | | |
| Sodium | 1619 mg (70.4 mmol) | 502 mg (21.8 mmol) |
| Potassium | 102 mg (2.6 mmol) | 31.6 mg (0.81 mmol) |
| Chloride | 2472 mg (69.6 mmol) | 766 mg (21.6 mmol) |
| Calcium | 100 mg (2.5 mmol) | 31.0 mg (0.78 mmol) |
| Phosphorus | 80.0 mg (0.84 mmol PO4) | 24.8 mg (0.26 mmol PO4) |
| Magnesium | 10.0 mg (0.42 mmol) | 3.1 mg (0.13 mmol) |