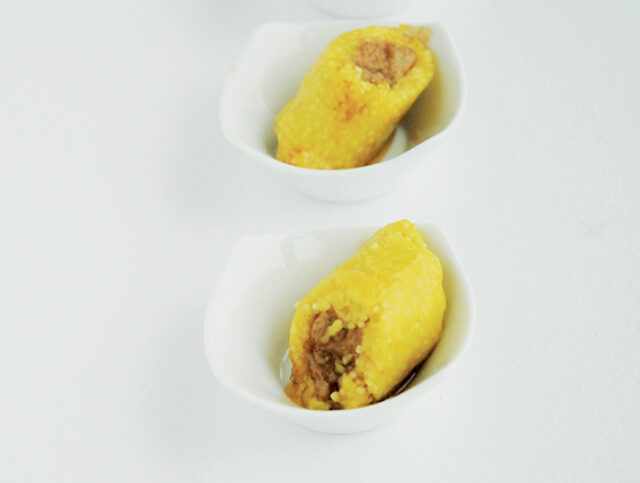 Ingredients
100g couscous
1 soupspoon of Bread and pastry Mix
1 sachet of Spigol (saffron powder)
100ml oil
salt
For the filling:
Juice of 1 orange
50g semolina
2g cinnamon powder
For the syrup:
250g sugar
75g acacia honey
Juice of 1/2 lemon
250ml water
Preparation
Combine the couscous, Bread and pastry Mix, saffron, salt and a pinch of sugar.
Incorporate the oil and gradually add 100ml of lukewarm water to obtain an elastic dough.
Knead well then let sit in the refrigerator for 30 minutes.
Meanwhile, prepare the filling. Mix the semolina with the lemon zest and hal of the orange juice.
Add the cinnamon and then shape into 3 batons.
Divide the couscous dough into three equal portions. Press out 3 rectangles of dough using the fingertips.
Place a semolina baton into each and roll up. You should have three filled batons.
Flatten slightly and cut into secitons.
Prepare the syrup by boiling 250ml of water with the sugar, the honey and the lemon juice.
Fry the Makrouds until golden in oil for a few minutes and then dip into the syrup.
Tip: flavour your syrup with a spoon of geranium floral water.
Nutritional Values
693kcal
25.5g
115.5g
0.4g
17mg
3mg