Bread and pastry mix
With bread and pastry mix, you can cook fresh, crusty and soft bread ; as well as pastries (muffins, pie crust, pizza dough...)
Important notice
For the dietary management of phenylketonuria and other inherited metabolic disorders requiring a low protein diet. Incomplete food, not suitable for use as the sole source of nourishment. To be used under medical supervision. Not suitable for children under 3 years old.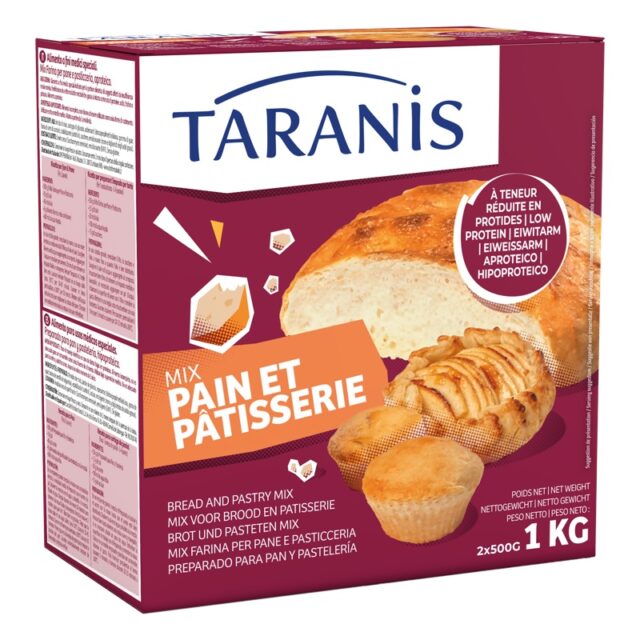 Description
Food for special medical purposes. Low protein and gluten free preparation to replace ordinary flour.
Ingredients
Mix: Corn starch, glucose syrup, thickeners (methylcellulose hydroxypropyl, guar gum, carob seed flour), stabiliser (sorbitol), sugar, emulsifier (mono and diglycerides of fatty acids). Yeast: dry baker's yeast (Saccharomyces cerevisiae), emulsifier (E491).
Gluten free.
Usage
For two loaves
Ingredients:
1 sachet of Bread and pastry Mix (500g)
2 teaspoon of salt
40g oil
8g baker's yeast
600ml of tepid water
Preparation: 
In a large bowl, mix (by hand or with an electric mixer on medium speed) the Mix with the oil and salt. Melt the yeast in water and add to the mixture. Add the water.
Mix for at least 20 minutes to obtain a fluid and homogeneous dough. Pour the dough into 2 well-greased 1lb loaf pans. Let the dough rise in a warm place (about 30°C, 85°F) for 30-45 minutes. Bake in a preheated oven at 200°C (400°F, Gas Mark 6) for 50 minutes.
Put water in the drip pan to improve the baking of the bread. Turn out the breads immediately after baking and let cool.
Conservation
Keep in a cool and dry place. Consume within 2 months after opening the sachet.
Conditioning
1kg box (2 sachets of 500g) + 2 sachets of yeast (8g)
Nutritional Values
| Average composition | For 100g of product |
| --- | --- |
| Energy value | 1582 kJ (373 kcal) |
| Fat | 1.4 g |
| Of which saturates | 0.7 g |
| Carbohydrate | 88.7 g |
| Of which sugars | 3.2 g |
| Fibre | 1.9 g |
| Protein | 0.4 g |
| Of which Phenylalanine | 20.0 mg |
| Methionine | 10.0 mg |
| Leucine | 30.0 mg |
| Threonine | 20.0 mg |
| Isoleucine | 10.0 mg |
| Lysine | 10.0 mg |
| Valine | 20.0 mg |
| Cystine | 10.0 mg |
| Tyrosine | 20.0 mg |
| Arginine | 20.0 mg |
| Salt | 0.03 g |
| Minerals | |
| Sodium | 12.2 mg (0.53 mmol) |
| Potassium | 14.2 mg (0.36 mmol) |
| Chloride | 90.0 mg (2.5 mmol) |
| Calcium | 11.1 mg (0.28 mmol) |
| Phosphorus | 15.0 mg (0.16 mmol PO4) |
| Magnesium | 4.5 mg (0.19 mmol) |