Chocolate chip biscuits (organic)
Convenient to take away for a snack. The sachet can be easily put into the child's school bag or handbag.
Important notice
For the dietary management of phenylketonuria and other inherited metabolic disorders requiring a low protein diet. Incomplete food, not suitable for use as the sole source of nourishment. To be used under medical supervision. Not suitable for children under 3 years old.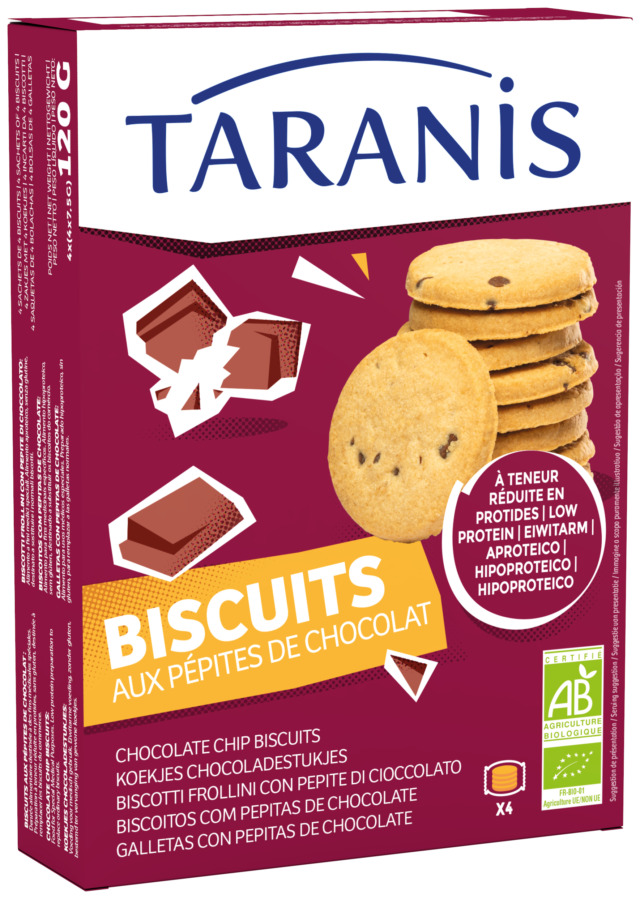 Description
Food for special medical purposes. Low protein preparation to replace ordinary biscuits.
Organic biscuits.
Ingredients
Corn starches*, palm oil*, sugar*, glucose syrup*, dark chocolate chips* (4.1%) (cane sugar*, cocoa mass*, cocoa butter*), vanilla extract*, emulsifier (sunflower lecithin*), caramel* (sugar*, water), raising agent (ammonium carbonate).
May contain nuts, eggs, milk.
*ingredients resulting from organic farming.
Gluten free.
Conservation
Before opening the sachet, store in a dry place at room temperature. Consume within 24h after opening the sachet.
Conditioning
120g box (4 sachets of 4 biscuits)
Nutritional Values
| Average composition | For 100g of product |
| --- | --- |
| Energy value | 2078 kJ (495 kcal) |
| Fat | 20.0 g |
| Of which saturates | 9.5 g |
| Carbohydrate | 78.0 g |
| Of which sugars | 18.0 g |
| Protein | 0.7 g |
| Of which Phenylalanine | 20.0 mg |
| Methionine | 12.0 mg |
| Leucine | 34.0 mg |
| Threonine | 14.5 mg |
| Isoleucine | 15.5 mg |
| Lysine | 13.0 mg |
| Valine | 24.0 mg |
| Cystine | 17.5 mg |
| Tyrosine | 12.5 mg |
| Arginine | 21.0 mg |
| Salt | 0.02 g |
| Minerals | |
| Sodium | 8.0 mg (0.30 mmol) |
| Potassium | 36.0 mg (0.90 mmol) |
| Chloride | <50.0 mg (1.4 mmol) |
| Calcium | 12.3 mg (0.30 mmol) |
| Phosphorus | 30.0 mg (0.30 mmol PO4) |
| Magnesium | 12.0 mg (0.50 mmol) |