Arancini
30min
75 arancini of 40g
5min
Can be frozen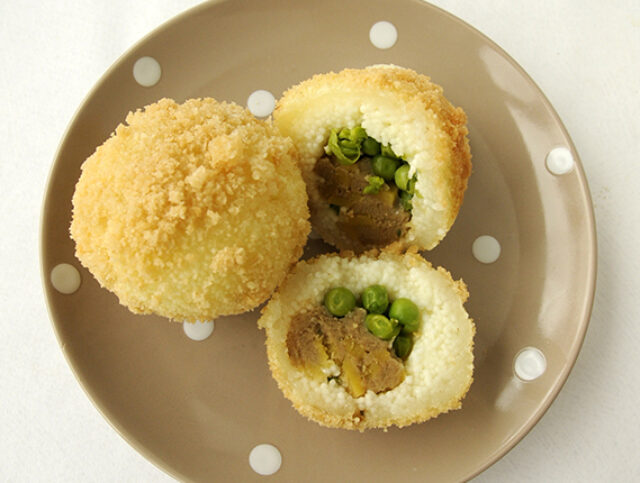 Ingredients
1 kg couscous
50ml vegetable stock
2 tbsp oil
500g  meat substitute
400g cooked garden peas
100g Cheese slice substitute
250g French toasts for the breadcrumbs (1 packet)
60g egg substitute
Salt and pepper
Oil for frying
Preparation
Pour the couscous into a heatproof bowl and then add the boiling vegetable stock.
Add 2 tbsp of oil and leave to absorb the liquid. Season with salt and pepper.
Once cool, shape the couscous into small balls in the palms of your hands.
Prepare the meat substitute according to the instructions, and add the cheese in small pieces.
Take a ball of couscous and flatten the centre. Insert a little meat stuffing with some peas and then reseal the ball.
Roll the balls in 60 g of egg substitute reconstituted with 240 ml of water. Crush the French toasts in their sachet to make breadcrumbs and coat the balls.
Deep fry the arancini in hot oil until golden.
Nutritional Values
83.3kcal (353.1kJ)
0.7g
18.9g
0.35g
14.4mg
26.1mg