Egg replacer
When baking or cooking, egg replacer is an indispensable ingredient!
Important notice
For the dietary management of phenylketonuria and other inherited metabolic disorders requiring a low protein diet. Incomplete food, not suitable for use as the sole source of nourishment. To be used under medical supervision. Not suitable for children under 3 years old.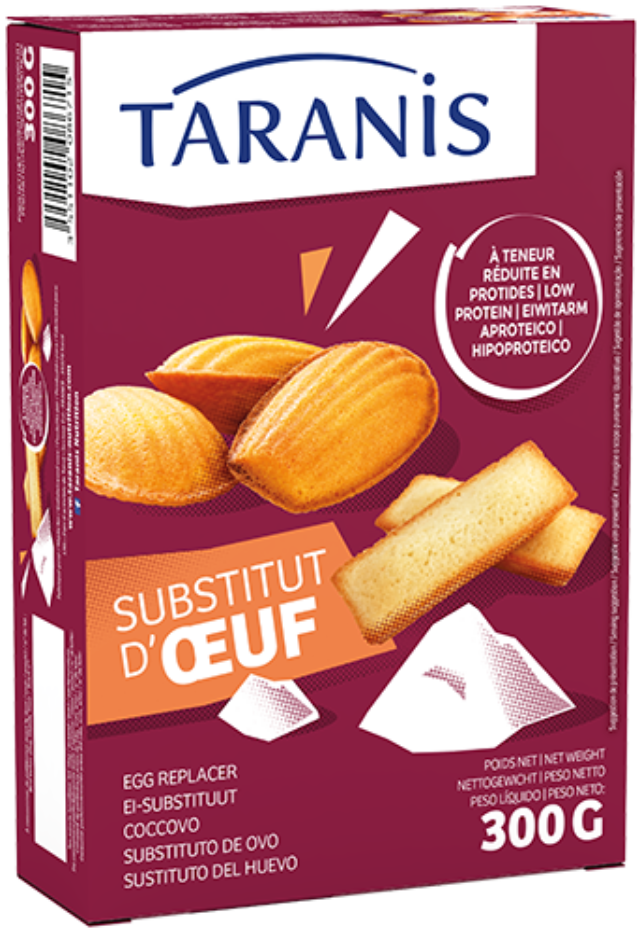 Description
Low protein preparation in powder form to replace eggs in cooking and baking.
Ingredients
Corn starch, potato starch, thickeners (E461, E412), emulsifier (E472e).
Gluten free
Usage
As a replacement for eggs in culinary preparations.
Equivalence: For 1 whole egg, mix 10g of egg replacer+ 40ml of water.
Conservation
Store in a dry place at room température . After opening, consume within 2 months.
Conditioning
300g pack.
Nutritional Values
| Average composition | For 100g of product |
| --- | --- |
| Energy value | 1494 kJ (352 kcal) |
| Fat | 0.6 g |
| Of which saturates | 0.5 g |
| Carbohydrate | 84.7 g |
| Of which sugars | < 0.5 g |
| Fibre | 3.4 g |
| Protein | 0.3 g |
| Of which Phenylalanine | 12.0 mg |
| Methionine | 7.1 mg |
| Leucine | 24.8 mg |
| Threonine | 8.7 mg |
| Isoleucine | 9.8 mg |
| Lysine | 10.6 mg |
| Valine | 14.2 mg |
| Cystine | 5.2 mg |
| Tyrosine | 7.5 mg |
| Arginine | 12.2 mg |
| Salt | 0.05 g |
| Minerals | |
| Sodium | 21.3 mg (0.93 mmol) |
| Potassium | 20.7 mg (0.53 mmol) |
| Chloride | <50.0 mg (<1.4 mmol) |
| Calcium | 67.3 mg (1.7 mmol) |
| Phosphorus | 25.2 mg (0.27 mmol PO4) |
| Magnesium | 3.9 mg (0.16 mmol) |