Cheese slice substitute
Ready to eat as it, or with low-protein bread. The slices of cheese substitute can be grated and/or heated to accompany your gratins.
Important notice
For the dietary management of phenylketonuria and other inherited metabolic disorders requiring a low protein diet. Incomplete food, not suitable for use as the sole source of nourishment. To be used under medical supervision. Not suitable for children under 3 years old.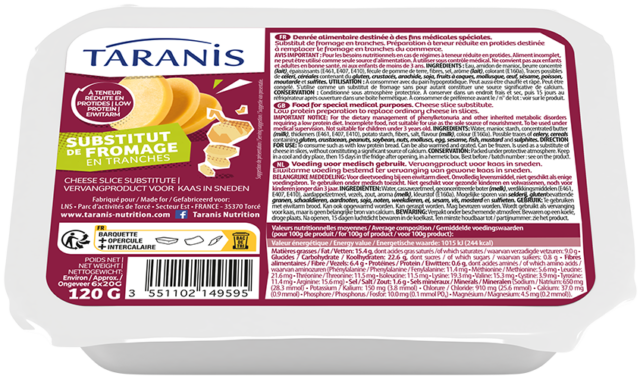 Description
Food for special medical purposes. Low protein preparation to replace ordinary sliced cheese.
Ingredients
Water, manioc starch, concentrated butter (milk), thickeners (E461, E407, E410), potato starch, fibers, salt, flavour (milk), colour (E160a). Possible traces of celery, cereals containing gluten, crustacean, peanuts, soybean, nuts, molluscs, egg, sesame, fish, mustard and sulphites.
Usage
Ready to be used as it, with low protein bread. May also be cooked and/or grated. For use as a substitute to sliced cheese, without constituting a significant source of calcium. Can be frozen. Does not melt.
Conservation
Keep in a cool and dry place, then 15 days in the fridge after opening, in a hermetic box. Packed under protective atmosphere.
Conditioning
120g pack (6 slices of 20g)
Nutritional Values
| Average composition | For 100g of product |
| --- | --- |
| Energy value | 1015 kJ (244 kcal) |
| Fat | 15.4 g |
| Of which saturates | 9.0 g |
| Carbohydrate | 22.6 g |
| Of which sugars | 0.8 g |
| Fibre | 6.4 g |
| Protein | 0.6 g |
| Of which Phenylalanine | 11.4 mg |
| Methionine | 5.6 mg |
| Leucine | 21.6 mg |
| Threonine | 11.5 mg |
| Isoleucine | 11.5 mg |
| Lysine | 19.3 mg |
| Valine | 15.3 mg |
| Cystine | 3.9 mg |
| Tyrosine | 11.4 mg |
| Arginine | 15.6 mg |
| Salt | 1.6 g |
| Minerals | |
| Sodium | 650 mg (28.3 mmol) |
| Potassium | 150 mg (3.8 mmol) |
| Chloride | 910 mg (25.6 mmol) |
| Calcium | 37.0 mg (0.9 mmol) |
| Phosphorus | 10.0 mg (0.1 mmol PO4) |
| Magnesium | 4.5 mg (0.2 mmol) |