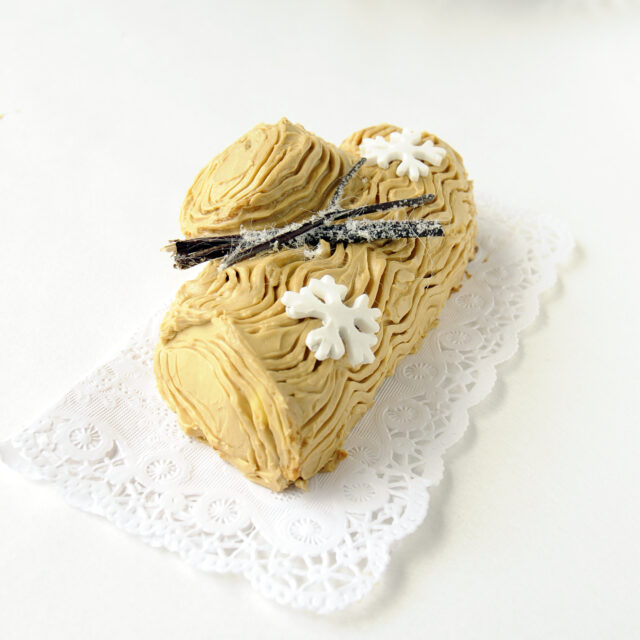 Ingredients
1 sachet natural cake mix
1 tsp vanilla powder
60 g butter
150 ml water
200 ml Dalia
150 g sugar
1 tbsp instant coffee granules
15 ml arrowroot
30 g cornstarch
1 g agar agar
250 g butter
Preparation
Preheat the oven to 170 °C.
Make a cake batter by mixing the natural cake mix with water, the melted butter and the vanilla powder.
Pour the batter onto a baking sheet lined with greaseproof paper and spread it with a spatula to form a rectangle. Bake for 20 minutes. Remove from the oven, cover with a further sheet of greaseproof paper and roll-up the rectangle. Leave to cool rolled-up.
In a saucepan, dissolve the arrowroot and the coffee in the cold Dalia. Thicken over a low heat then allow to cool to obtain a coffee cream.
In a food processor, mix the softened butter. Very gradually pour in the coffee cream, mixing continuously. The frosting cream is ready.
Add the cornstarch and agar agar to the remaining coffee cream and heat to thicken. Allow to cool to obtain a thick coffee cream.
Carefully unroll the log and spread it with the thick coffee cream. Reroll and cover with the frosting.
Nutritional Values
1689 kj / 401.9 kcal
14.7 g
67.2 g
0.2 g
18.2 mg
34.2 mg