Dalia liquid
Tetra brick packaging is transport to school or work. Can be eaten as is or flavoured (fruit syrups, natural essences, etc) or warmed with tea or instant coffee. Can be heated to prepare sauces.
Important notice
For the dietary management of phenylketonuria and other inherited metabolic disorders requiring a low protein diet. Incomplete food, not suitable for use as the sole source of nourishment. To be used under medical supervision. Not suitable for children under 1 year old.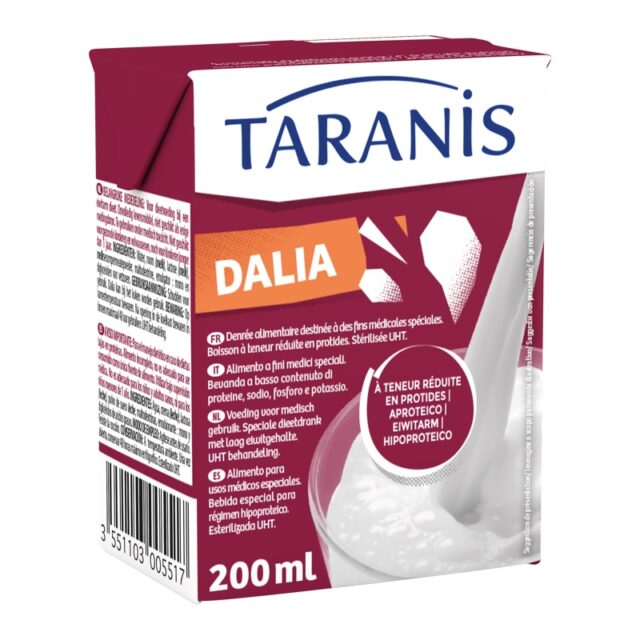 Description
Food for special medical purposes. Low protein dietary drink.
Ingredients
Water, cream (milk), lactose (milk), milk permeate powder, maltodextrin, mono and diglycerides of fatty acids.
Usage
As a replacement of ordinary milk, without constituting a significant source of calcium. Shake well before use.
Conservation
UHT sterilised. Store in a dry place at room temperature. After opening, keep refrigerated and use within 48 hours.
Conditioning
Pack of 24 units - 200ml tetrabrick
Nutritional Values
| Average composition | For 100g of product |
| --- | --- |
| Energy value | 208 kJ (50 kcal) |
| Fat | 2.6 g |
| Of which saturates | 1.9 g |
| Carbohydrate | 6.4 g |
| Of which sugars | 4.8 g |
| Protein | 0.2 g |
| Of which Phenylalanine | 6.4 mg |
| Methionine | 4.3 mg |
| Leucine | 14.1 mg |
| Threonine | 6.7 mg |
| Isoleucine | 7.3 mg |
| Lysine | 13.7 mg |
| Valine | 8.8 mg |
| Cystine | 2.6 mg |
| Tyrosine | 7.2 mg |
| Arginine | 5.0 mg |
| Salt | 0.02 g |
| Minerals | |
| Sodium | 9.0 mg (0.39 mmol) |
| Potassium | 30.0 mg (0.77 mmol) |
| Chloride | 20.0 mg (0.56 mmol) |
| Calcium | 14.0 mg (0.35 mmol) |
| Phosphorus | 10.0 mg (0.11 mmol PO4) |
| Magnesium | 2.5 mg (0.10 mmol) |