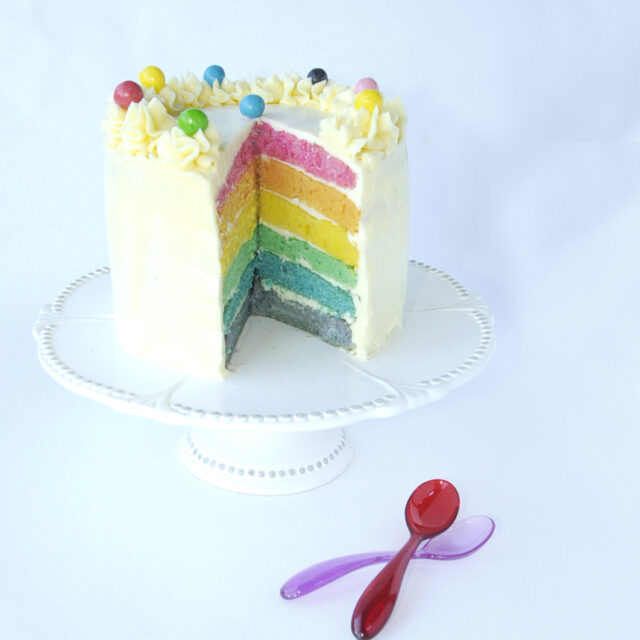 Ingredients
For the cake batter:
2 sachets natural cake mix
140 g butter
300 ml water
1 tsp vanilla powder
Food colouring (blue, red, yellow)
For the cream:
350 g butter
1 tsp vanilla essence
150 g sugar
150 ml Dalia
10 ml arrowroot
1 packet Skittles sweets
Preparation
Preheat the oven to 170 °C.
Make a cake batter by mixing the natural cake mix with water and then the melted butter and the vanilla powder.
Transfer 150 g batter into six separate bowls. Mix the colourings to make the colours: purple (3 blue to 2 magenta), blue (pure), green (3 yellow to 1 blue), yellow (pure), orange (3 yellow to 2 magenta), magenta (pure).
Cook the cakes two at a time, keeping a close eye on them as cooking may alter their colour. Leave to cool on a rack.
In a saucepan, mix the arrowroot, sugar, vanilla essence and cold Dalia. Thicken over a low heat. Leave to cool.
Mix the butter in a food processor. Drizzle in the vanilla cream that you have just made to get a smooth cream.
Assemble the rainbow cake, alternating layers of sponge with butter cream. Spread the butter cream over the outside of the cake and decorate with the Skittles.
Tip: be generous with the amounts of food colourings, especially those containing blue, as they fade during cooking.
Nutritional Values
2987 kj / 717 kcal
49.9 g
66.7 g
0.4 g
7 mg
8 mg