Natural cake mix
Very easy to make your own cake! It is possible to add jam, fruits or to decorate with gumpaste!
Important notice
For the dietary management of phenylketonuria and other inherited metabolic disorders requiring a low protein diet. Incomplete food, not suitable for use as the sole source of nourishment. To be used under medical supervision. Not suitable for children under 3 years old.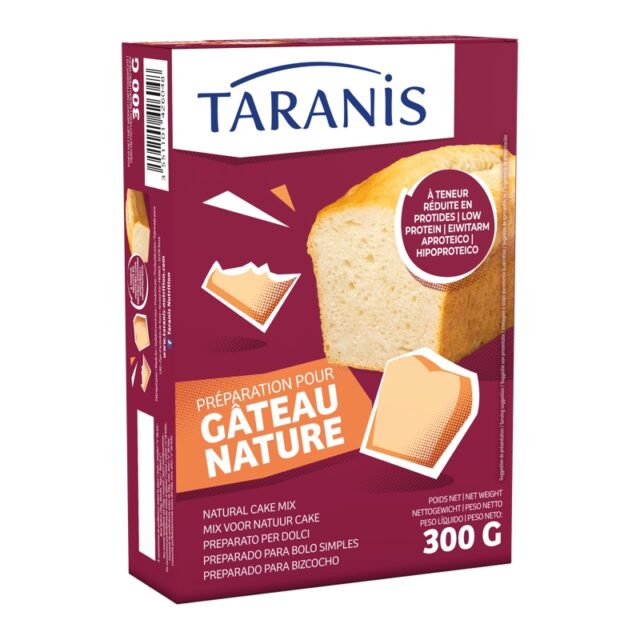 Description
Food for special medical purposes. Low protein and gluten free preparation to replace ordinary cakes mixes.
Ingredients
Corn starch, sugar, dextrose, thickeners (hydroxypropylmethylcellulose, carob seed flour, xanthan gum), raising agent (disodium diphosphate, sodium acid carbonate, monocalcium phosphate), emulsifier (mono and diglycerides of fatty acids).
Gluten free.
Usage
For 8 individual cupcakes or one cake
Ingredients:
1 sachet of Natural cake mix (300g)
150ml of water
70g melted butter
Preparation: 
Preheat the oven to 170°C. In a bowl, combine the cake mix, water and melted butter.
Whisk to obtain a smooth batter. Divide the batter between 8 individual cake moulds or pour into the buttered cake tin.
Bake for 20-25 min. at 180°C (gas mark 6) until the cake is golden brown on the top.
Take out from the oven and leave to cool.
You can add 130g of fresh fruits and mix in.
Conservation
Store in a dry place at room temperature. Consume within 2 months after opening the sachet.
Conditioning
Box of 300g (1 sachet).
Nutritional Values
| Average composition | For 100g of product |
| --- | --- |
| Energy value | 1548 kJ (366 kcal) |
| Fat | 1.3 g |
| Of which saturates | 0.9 g |
| Carbohydrate | 84.6 g |
| Of which sugars | 47.9 g |
| Fibre | 7.1 g |
| Protein | 0.3 g |
| Of which Phenylalanine | <10.0 mg |
| Methionine | <10.0 mg |
| Leucine | <10.0 mg |
| Threonine | 20.0 mg |
| Isoleucine | 10.0 mg |
| Lysine | 10.0 mg |
| Valine | 10.0 mg |
| Cystine | 10.0 mg |
| Tyrosine | 10.0 mg |
| Arginine | 10.0 mg |
| Salt | 0.74 g |
| Minerals | |
| Sodium | 295 mg (12.8 mmol) |
| Potassium | 23.8 mg (0.61 mmol) |
| Chloride | 50.0 mg (1.4 mmol) |
| Calcium | 32.3 mg (0.81 mmol) |
| Phosphorus | 256 mg (2.7 mmol PO4) |
| Magnesium | <3.5 mg (0.15 mmol) |