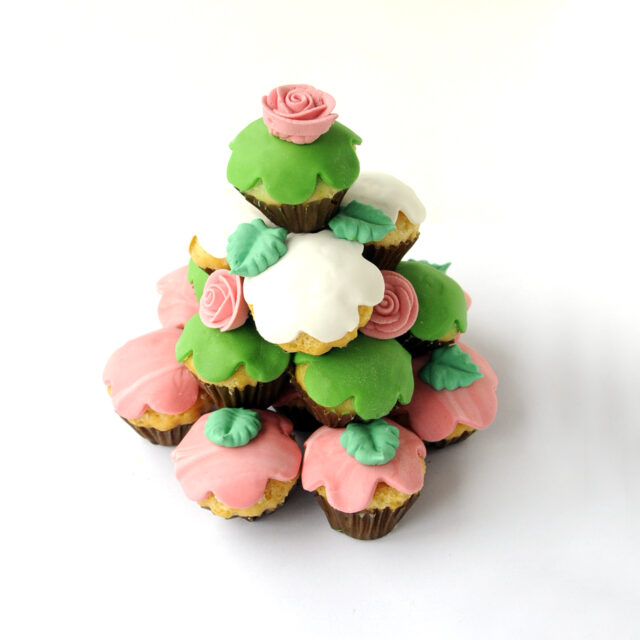 Ingredients
1 sachet natural cake mix
70 g melted pasteurised butter
150 ml water
Choice of lemon or orange zest, candied fruit or caramel chips
Fondant icing
Sugar roses
1 tbsp sugar
Preparation
Preheat the oven to 180°C.
Add the contents of the sachet and 150 ml water to a bowl and whisk. Add the melted butter
Divide the cake batter into two and add your choice of lemon or orange zest, candied fruit or caramel chips.
Transfer the batter to a pastry bag and fill the paper cupcake cups two-thirds full. Bake for 18 minutes.
Knead the fondant icing quickly between your hands. Dust the work surface with a little icing sugar and roll out the fondant to a thickness of 3 mm. Cut out shapes using the pastry cutter, using a different colour fondant icing for each flavour of cupcake. Decorate the little cupcakes.
Arrange the cupcakes in circles of decreasing size to make a tiered display, using skewers if necessary.
Tip: create a tiered cupcake stack for everyone by also making a conventional cupcake recipe. Distinguish the low-protein cakes by using fondant icing of a different colour for the conventional cakes.
Nutritional Values
1450 kj / 345 kcal
13 g
56.8 g
0.2 g
6 mg
8 mg