Curry sticks
10min
24
20min
Can be frozen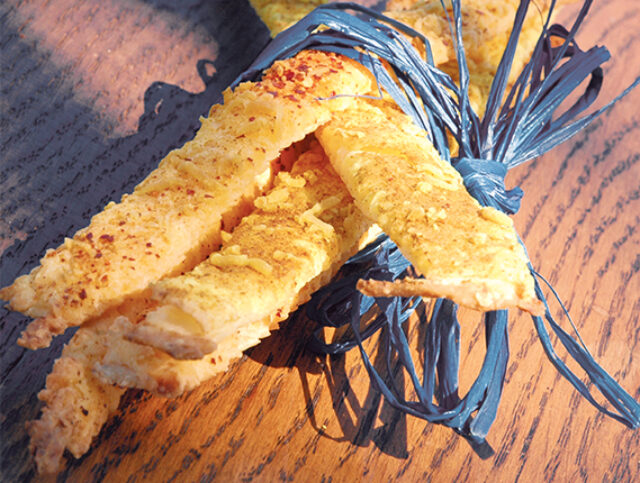 Ingredients
200g Bread and pastry Mix
1 level teaspoon salt
2 teaspoons icing sugar
90g vegetable margarine
120ml Dalia Liquid
8g of dried baker's yeast
3 Cheese slices substitute
1 teaspoon curry powder
1 teaspoon paprika
Preparation
Sieve the Mix with the salt and the icing sugar.
Add the baker's yeast and 20g of margarine then rub with your fingertips. Add the Dalia and form a smooth dough.
Roll out the dough between two sheets of parchment paper. Use a knife to spread margarine on one half. Fold. Spread margarine on half; fold. Put in the freezer for 10 min.
Roll out the dough with a rolling pin and repeat the procedure.
Preheat the oven to 180°C (gas mark 6).
Prepare a wash using the olive oil and curry powder, and a paprika wash ands in another bowl.
Using a pastry brush, brush the rplled out dough (which should be around 4 mm thick). Grate the cheese substitute  on the dough and cut into strips.
Bake for 20 minutes at 180°C (gas mark 6).
Nutritional Values
68kcal (283kJ)
3.6g
8.7g
0.1g
5mg
8mg