Hazelnut spread
For breakfast or a snack, this spread will enhance your toasts!
Important notice
For the dietary management of phenylketonuria and other inherited metabolic disorders requiring a low protein diet. Incomplete food, not suitable for use as the sole source of nourishment. To be used under medical supervision. Not suitable for children under 3 years old.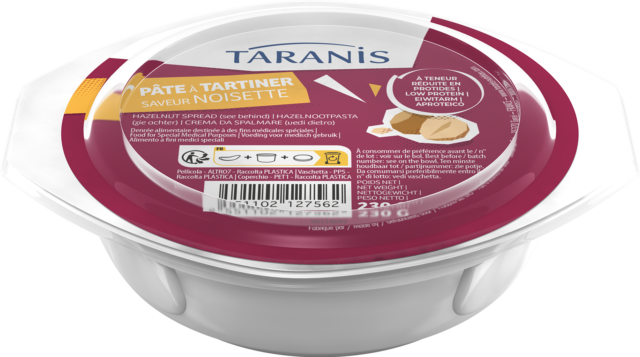 Description
Food for special medical purposes. Low protein preparation to replace ordinary spread.
Ingredients
Water, dried glucose syrup, margarine (vegetable oils and fats (partially hydrogenated palm, palm, rapeseed), water, emulsifier E471, concentrated butter (milk), salt, flavourings, preservative E202, acidity regulator E330, antioxidant E306, colour E160a), cocoa butter (10%), chocolate (6%) (sugar, cocoa paste, emulsifier: lecithins (soya)), modified starch, hazelnuts and almonds paste (1%) (sugar, hazelnuts (24%), almonds (24%), vegetable fat (sunflower), emulsifier: lecithins (soya)), flavourings, salt, thickener: xanthan gum. Possible traces of cereals containing gluten (wheat).
Usage
At breakfast or as a snack, spread 30g of the product on low-protein bread (1 teaspoon = 5g). Suitable for use as a topping on low-protein biscuits.
Conservation
In a cool and dry place. Replace cover firmly after use, refrigerate and use within one month of opening.
Conditioning
Plastic 230g pot with reusable cover.
Nutritional Values
| Average composition | For 100g of product |
| --- | --- |
| Energy value | 1452 kJ (347 kcal) |
| Fat | 19.6 g |
| Of which saturates | 10.6 g |
| Carbohydrate | 42.0 g |
| Of which sugars | 7.0 g |
| Fibre | 0.5 g |
| Protein | 0.5 g |
| Of which Phenylalanine | 19.0 mg |
| Methionine | 5.6 mg |
| Leucine | 25.5 mg |
| Threonine | 14.6 mg |
| Isoleucine | 13.5 mg |
| Lysine | 11.6 mg |
| Valine | 17.5 mg |
| Cystine | <4.0 mg |
| Tyrosine | 9.6 mg |
| Arginine | 24.1 mg |
| Salt | 0.17 g |
| Minerals | |
| Sodium | 68.1 mg (3.0 mmol) |
| Potassium | 30.0 mg (0.77 mmol) |
| Chloride | 95.0 mg (2.7 mmol) |
| Calcium | 5.0 mg (0.13 mmol) |
| Phosphorus | 15.0 mg (0.16 mmol PO4) |
| Magnesium | 8.5 mg (0.35 mmol) |