Hazelnut spread
For breakfast or a snack, this spread will enhance your toasts!
Important notice
For the dietary management of phenylketonuria and other inherited metabolic disorders requiring a low protein diet. Incomplete food, not suitable for use as the sole source of nourishment. To be used under medical supervision. Not suitable for children under 3 years old.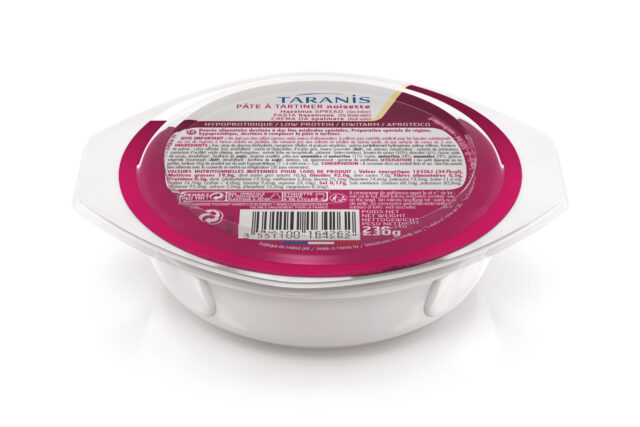 Description
Food for special medical purposes. Low protein preparation to replace ordinary spread.
Ingredients
Water, dried glucose syrup, margarine (vegetable oils and fats: partially hydrogenated palm, palm, rapeseed. Water, emulsifier : mono and diglycerides of fatty acids (E471), concentrated butter (milk), salt, flavourings, preservative: potassium sorbate (E202), acidity regulator: citric acid (E330), antioxidant: tocopherol-rich extract, colour: beta-carotene (E160a)), cocoa butter (10%), chocolate (6%) (sugar, cocoa paste, emulsifier : lecithins (soya), modified starch, hazelnuts and almonds paste (1%)(sugar, hazelnuts (24%), almonds (24%), vegetable fat (sunflower) , emulsifier : lecithin (soya)), flavourings, salt, thickener : xanthan gum
Usage
At breakfast or as a snack, spread 30g of the product on low-protein bread (1teaspoon = 5g). Suitable for use as a topping on low-protein biscuits.
Conservation
In a cool and dry place. Replace cover firmly after use, refrigerate and use within one month of opening.
Conditioning
Plastic 230g pot with reusable cover.
Nutritional Values
| Average composition | For 100g of product |
| --- | --- |
| Energy value | 1452 kJ (347 kcal) |
| Fat | 19.6 g |
| Of which saturates | 10.6 g |
| Carbohydrate | 42.0 g |
| Of which sugars | 7.0 g |
| Fibre | 0.5 g |
| Protein | 0.5 g |
| Of which Phenylalanine | 19.0 mg |
| Methionine | 5.6 mg |
| Leucine | 25.5 mg |
| Threonine | 14.6 mg |
| Isoleucine | 13.5 mg |
| Lysine | 11.6 mg |
| Valine | 17.5 mg |
| Cystine | <4.0 mg |
| Tyrosine | 9.6 mg |
| Arginine | 24.1 mg |
| Salt | 0.17 g |
| Minerals | |
| Sodium | 68.1 mg (3.0 mmol) |
| Potassium | 30.0 mg (0.77 mmol) |
| Chloride | 95.0 mg (2.7 mmol) |
| Calcium | 5.0 mg (0.13 mmol) |
| Phosphorus | 15.0 mg (0.16 mmol PO4) |
| Magnesium | 8.5 mg (0.35 mmol) |