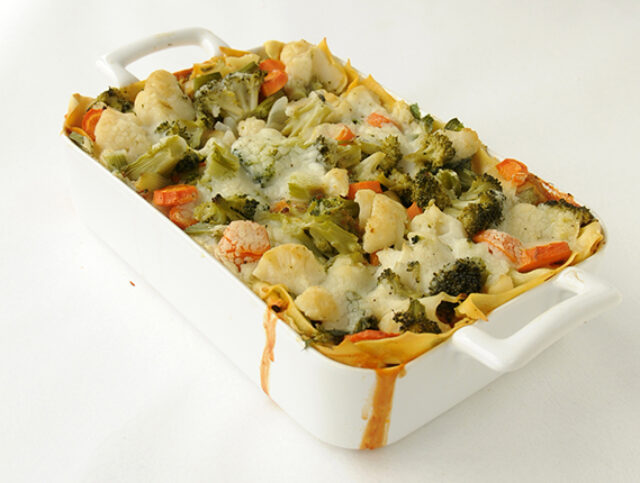 Ingredients
For the vegetable sauce:
2 tbsp olive oil
2 cloves of garlic
75g shallots
50 g celery
75g carrot
80g cauliflower
130g broccoli
100g courgette
400g tin of chopped tomatoes
2 tbsp mix herbs (thyme, basil, oregano, cumin, etc.)
1 vegetable stock cube
50 ml hot water
Salt, pepper
For the white sauce:
500ml Dalia
50g butter
30g cornstarch
½ vegetable stock cube
For the lasagne sheets:
400g Bread and Pastry Mix
200 ml water
25 ml olive oil
Salt
Preparation
For the vegetable sauce
Wash and dice all the vegetables. Heat the olive oil and gently fry on a low heat the garlic, shallots, celery and carrots. Stir frequently.
Add the cauliflower, broccoli and courgettes. Cook for around 3 minutes. Add the chopped tomatoes, herbs, stock cube and water. Bring to the boil and simmer for 5 minutes, stirring frequently. Set to one side.
For the white sauce
Pour the Dalia into a pain and add the butter, flour and the crumbled stock cube. Whisk to thoroughly mix then heat over a medium heat, stirring until the mixture thickens. Set to one side.
For the lasagne sheets
Mix the Bread and Pastry Mix, water, olive oil and salt. Knead to obtain a firm and elastic dough. Roll out the dough with a rolling pin and then pass the dough through a pasta rolling mill until thin sheets are obtained. Cut the sheets to the size of a baking dish.
Preheat the oven to 200°C. Evenly spread a layer of vegetable sauce across the bottom of the baking dish. Cover with the sheets of lasagne and then a layer of white sauce. Repeat and finish with layer of vegetable sauce. Cover with white sauce.
Bake the lasagne for 25 minutes at 200°C.
Tips: Try grating some cheese substitute across the top. Meat substitute can be used in the vegetable sauce instead of the broccoli and cauliflower. To prepare the meat substitute, add 200 ml of water to 2 sachets of meat substitute, set aside for 10 minutes and then fry in a frying pan. Allow to cool, then finely chop and add the vegetables.
Nutritional Values
504.5kcal (2118kJ)
20.9g
75.6g
3.5g
106mg
153.6mg