Preparation for cheese flavoured sauce
The preparation for cheese flavoured sauce will flavour your gratins, sandwiches, vegetables or low protein pasta or rice. You can also sprinkle it on as a substitute for grated cheese.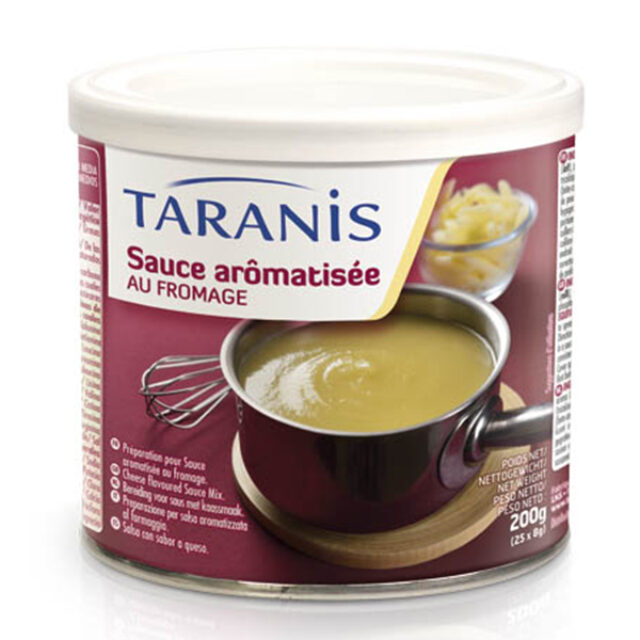 Description
Preparation for cheese flavoured sauce (for making sauces or for use as a sprinkling like parmesan on pasta or rice with reduced protein content).
Ingredients
Modified starch, maltodextrins, flavour (milk), skimmed milk powdered, salt, anti cakking agent (tricalcium phosphate), thickener (cellulose gum), colour (beta caroten). Manufactured in a workshop using: crustacean, egg, fish, soybean, milk, nuts, sulphites, celery.
Usage
Preparation for 4 portions
1 teaspoon = about 4g.
In a saucepan, whisk toigether 32g of preparation and 24ml of cold water. Heat whilst stirring with a wooden spoon until the mixture thickens.
Conservation
Store in a cool, dry place. Use within 8 weeks of opening. Reseal the pack after use.
Conditioning
200g tin.
Nutritional Values
| Average composition | For 100g of product | For 1 portion (8g) |
| --- | --- | --- |
| Energy value | 1546 kJ (364 kcal) | 124 kJ (29 kcal) |
| Fat | 0.3 g | 0 g |
| Of which saturates | 0.2 g | 0 g |
| Carbohydrate | 88.0 g | 7.0 g |
| Of which sugars | 6.4 g | 0.5 g |
| Protein | 2.1 g | 0.2 g |
| Of which Phenylalanine | 60.0 mg | 4.8 mg |
| Methionine | 30.0 mg | 2.4 mg |
| Leucine | 160 mg | 12.8 mg |
| Threonine | 70.0 mg | 5.6 mg |
| Isoleucine | 70.0 mg | 5.6 mg |
| Lysine | 110 mg | 8.8 mg |
| Valine | 90.0 mg | 7.2 mg |
| Cystine | <20.0 mg | <1.6 mg |
| Tyrosine | 70.0 mg | 5.6 mg |
| Arginine | 40.0 mg | 3.2 mg |
| Salt | 3.1 g | 0.2 g |
| Minerals | | |
| Sodium | 1243 mg (54.0 mmol) | 99.4 mg (4.3 mmol) |
| Potassium | 93.6 mg (2.4 mmol) | 7.5 mg (0.19 mmol) |
| Chloride | 1880 mg (53.0 mmol) | 150 mg (4.2 mmol) |
| Calcium | 385 mg (9.6 mmol) | 30.8 mg (0.77 mmol) |
| Phosphorus | 204 mg (2.1 mmol PO4) | 16.3 mg (0.17 mmol PO4) |
| Magnesium | 10.9 mg (0.45 mmol) | 0.87 mg (0.04 mmol) |